Martin A. De Sapio, AIA
270 South Main Street New Jersey 08822
​
Email: info@desapio.com
Phone: 908/788-5222 ext. 206
Fax: 908/788-6877
​
Martin A. De Sapio, AIA
270 South Main Street New Jersey 08822
​
Email: info@desapio.com
Phone: 908/788-5222 ext. 206
Fax: 908/788-6877
​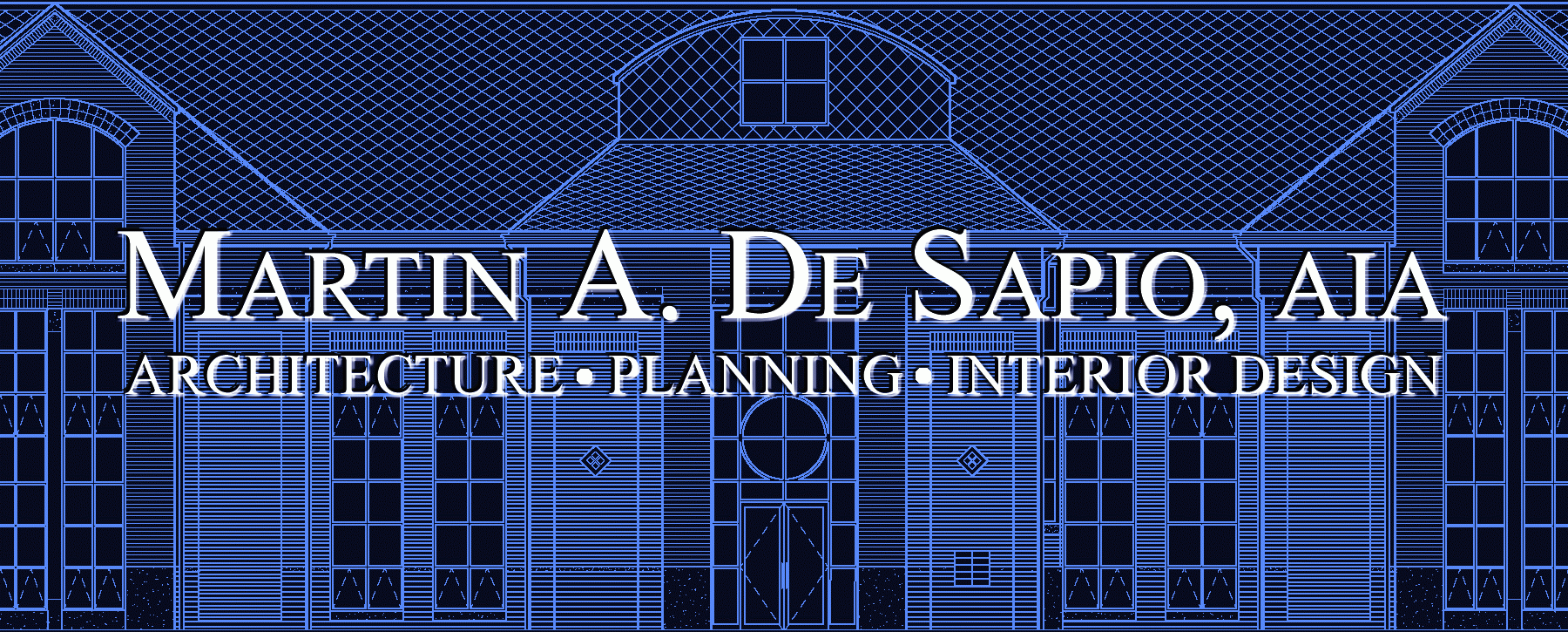 The firm of Martin A. De Sapio, AIA, provides architectural, planning and interior design services to a diverse clientele. Founded in 1984, the firm has a well established reputation in ecclesiastical work. Current ecclesiastical projects are located in New York, New Jersey, Pennsylvania, Delaware and Massachusetts. Other work includes schools and colleges, financial institutions, office and residential buildings.
We are located in Flemington, New Jersey, about one hour west of New York City and one hour north of Philadelphia. Our studio is in a beautiful space on the top floor of a building designed by the firm. Our building won the 1998 International Masonry Institute/New Jersey Award for Best Commercial Building.
Other firm awards include the 1997 International Masonry Institute/New Jersey Award for Saint Luke Church in Toms River, New Jersey, and the 1990 design competition for Church Street Housing in Trenton, New Jersey, sponsored by AIA, New Jersey.
​
Martin A. De Sapio, AIA started the firm that bears his name in 1984. He is a graduate of the University of Notre Dame's five-year Bachelor of Architecture program, which included a year's study in Rome and travel throughout Europe. He holds architectural licenses in New Jersey, New York, Pennsylvania, Massachusetts and Delaware, is a licensed professional planner and is NCARB certified.
In addition to the American Institute of Architects, Martin is a member of Association of Consultants for Liturgical Space, New Jersey Society of Architects, National Trust for Historic Preservation, and Interfaith Forum on Religion, Art and Architecture. He and his wife, Dr. Cathleen Mullarkey-De Sapio, live in Kingwood and have two children.
​
David L. Mooney, AIA, with the firm since 1995 and has been a Project Architect for the firm since 2003. David graduated from Pennsylvania State University with a Bachelor of Architecture, is a licensed architect in NJ, is NCARB certified and is LEED AP certified with BD+C specialization. Outside the office, he is very involved as a volunteer with National Ski Patrol. He belongs to the Delaware Valley (NJ) and Shawnee Mtn. (PA) Ski Patrols and is Region Administrator for the OEC program in the NJ Region.
​
Here is a short list of the many projects David has been involved with:
St. Helen Church (Westfield, NJ) , St. Thomas More Church (St. John's University, NY), Congregation Agudath Israel (Caldwell, NJ), St. Joseph Church (Aston, PA), Our Lady of Good Counsel Church (Pompton Plains, NJ), St. Gabriel of the Sorrowful Mother Church (Avondale, PA), 270 South Main St., Professional Office Building (Flemington, NJ).
Church Street Housing - First Place Winner - Design Competition:
Church Street Housing, co-sponsored by Central Chapter of New Jersey Society of Architects and Trenton Urban League for 16 units of
low income housing in Trenton, NJ

1997 International Masonry Institute New Jersey Golden Tower Award Best in Category - Municipal / Community: St. Luke Roman Catholic Church,
Toms River, NJ

1998 International Masonry Institute New Jersey Golden Tower Award Best in Category - Commercial Project: 270 South Main Street Professional
Office Building, Flemington, NJ