Martin A. De Sapio, AIA
270 South Main Street New Jersey 08822
​
Email: info@desapio.com
Phone: 908/788-5222 ext. 206
Fax: 908/788-6877
​
Martin A. De Sapio, AIA
270 South Main Street New Jersey 08822
​
Email: info@desapio.com
Phone: 908/788-5222 ext. 206
Fax: 908/788-6877
​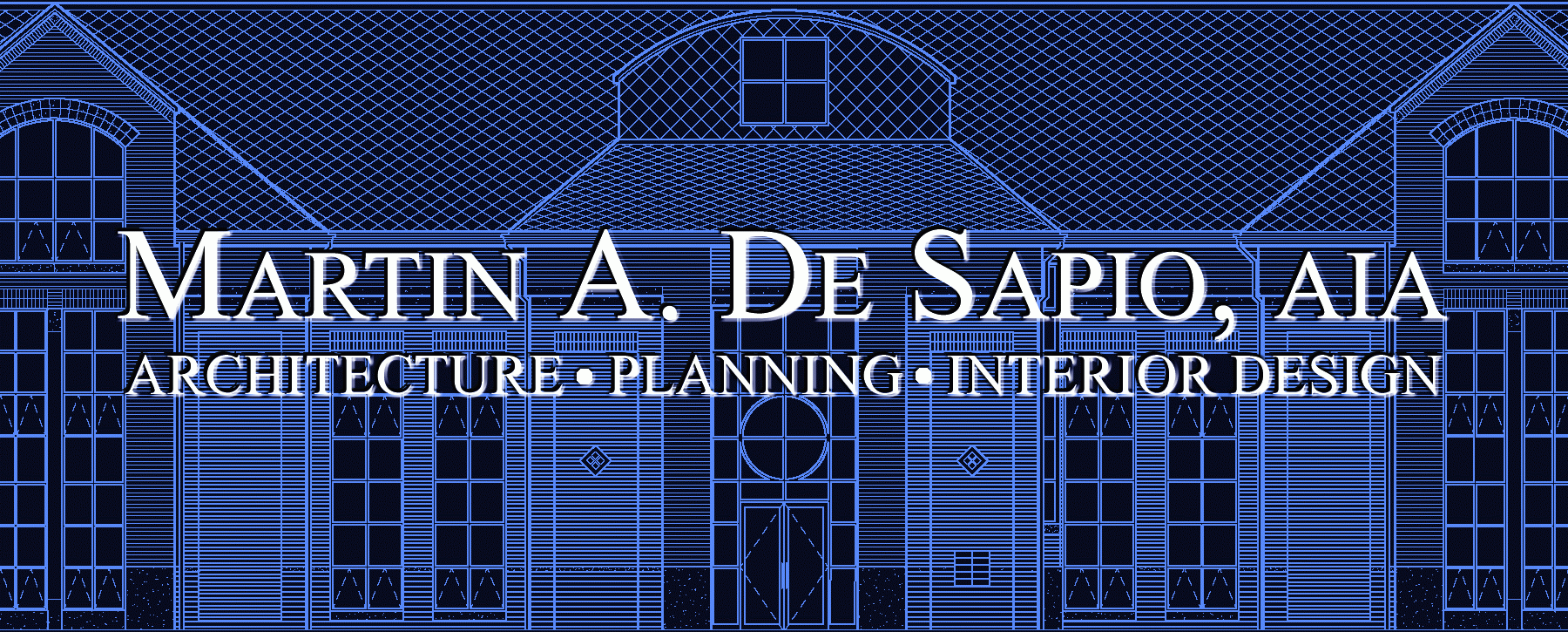 Martin A. De Sapio, AIA has a legacy for providing architectural services
from project conception to the dedication and beyond.
​
LITURGICAL CONSULTING AND DESIGN
The firm of Martin A. De Sapio, AIA has specialized in religious architecture and master planning
of religious complexes since it was established in 1984. We have completed projects for over
100 religious entities. Our completed projects include new churches, parochial schools, religious
education buildings and parish centers, as well as worship space and parish center additions,
renovations, and renewals.
​
In addition to ecclesiastic facility design, we offer specialty design and coordination for finishes,
furnishings, artwork, stained glass and audio/visual systems.
MASTER PLANNING
Long range planning or short term, let our experience guide you:
Feasibility studies, budgeting, and capital campaign consultation.

Site analysis and phased construction studies.

Zoning and building code analysis.
SCHEMATIC DESIGN - DESIGN DEVELOPMENT - CONSTRUCTION DOCUMENTATION
​
New building design, additions, alterations, and interior design.

Structural, mechanical, electrical and plumbing design.

Lighting design and specification

Acoustical analysis and sound system design
BIDDING & NEGOTIATIONS
Bringing owners and contractors together to make your dreams a reality.
We guide you through the next part of the building process. We prepare bid packages, assist
with contractor qualification and selection, and review bids with you.
CONSTRUCTION ADMINISTRATION
As your representative, we will be with you throughout the entire construction process.
Coordinating construction meetings, reviewing submittals, responding to contractor questions,
reviewing payment applications and provide ongoing inspections of the work to verify its
conformance with the design and specifications.
At the completion of construction, we coordinate the project closeout paper work, preform a
final walkthrough and issue a punchlist of items that need to be corrected before we are
satisfied that the project is 100% finished.
CAPTIAL IMPROVEMENTS, RENOVATIONS & COMMERCIAL TENANT FITOUTS
​
Need to repurpose existing space for new functions?
Need to expand your existing facility?
New tenant leasing existing space?
​
Our team can work with you to solve your existing/new design puzzle.
Existing facility in need of repairs or updating?
We offer the following services:
Building facilities inspections, including architectural, structural and HVAC

Handicap accessibility review and solutions

Analysis of HVAC systems and energy consumption, light fixture upgrades
and other energy related improvements.
Roof replacements, sealant replacement, waterproofing, window replacements and more.