Martin A. De Sapio, AIA
270 South Main Street New Jersey 08822
​
Email: info@desapio.com
Phone: 908/788-5222 ext. 206
Fax: 908/788-6877
​
Martin A. De Sapio, AIA
270 South Main Street New Jersey 08822
​
Email: info@desapio.com
Phone: 908/788-5222 ext. 206
Fax: 908/788-6877
​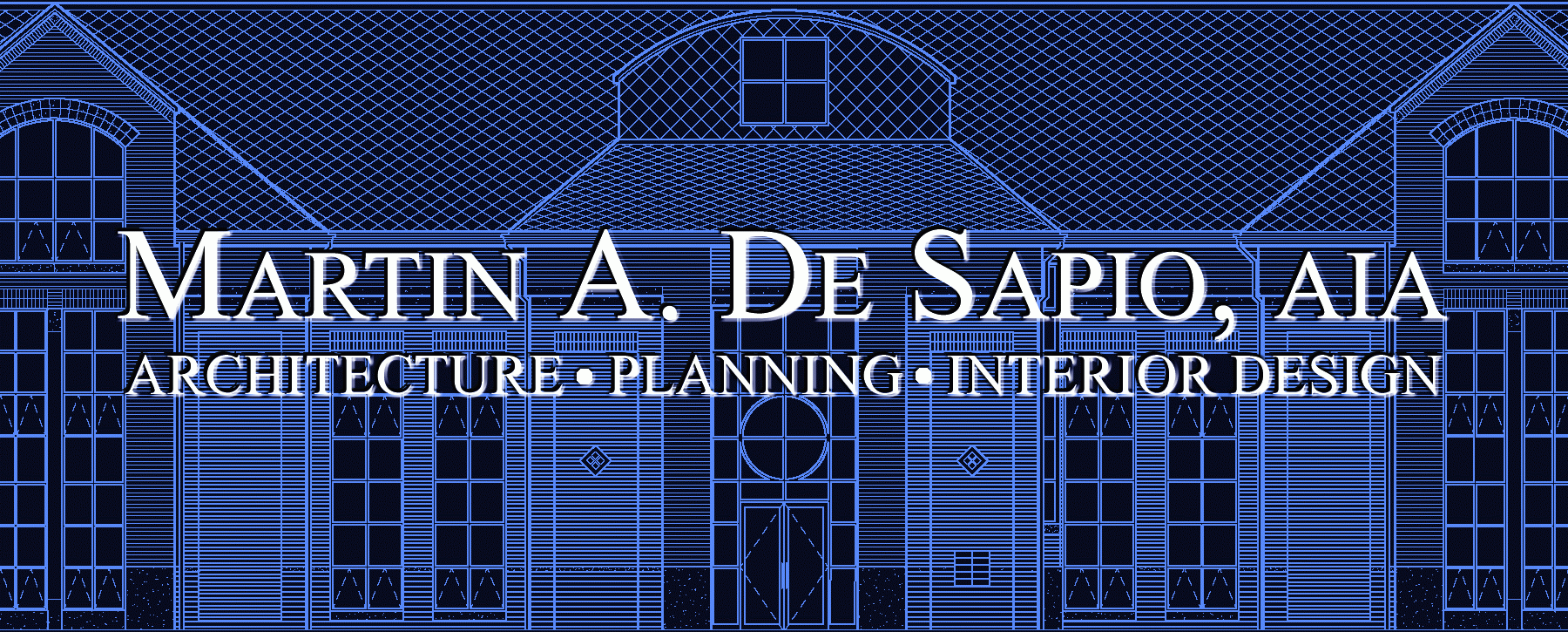 270 SOUTH MAIN STREET
Flemington, New Jersey
Description
Awards
1998 International Masonry Institute
New Jersey Golden Tower Award
​
Best in Category - Commercial Project:
270 South Main Street Professional Office Building
Flemington, NJ
​
​
This project is a three-story, 17,000 square foot, professional office building completed in 1997, located at 270 South Main Street in Flemington, New Jersey. This building is the culmination of many years of design effort by the architect, and the cathedral spaces of the third floor are now home to our architectural offices. The site is a former baseball field and the site design reveals evidence of this. The project was a unique opportunity for the architect to design and occupy a building. An intent of the project is to evoke the architectural thinking inherent in the origins and development of the design, and that the making of architecture is in fact the purpose of the building. This is a place where buildings are designed. This added an extra dimension to the formal questions and architectural language associated with the typology of the office building.
​
The composition of the building exterior was achieved primarily by manipulation of masonry wall elements consisting of two colors of brick in two planes and various cast stone components.
The lighter brick recedes, and reads as the volume of the first two stories. The darker brick is brought forward, creating a superposition of tall, frame-like layers of brick punctuated by multi-story expanses of blue glass. The gabled volumes projecting above the eave line of the main roof read as smaller buildings within the whole and comprise the spaces of the architect's studios. The massing of the third story is supported on slender piers of darker brick which are received at grade with cast stone.
These standing frames are connected at the shoulder by a continuous brick panel below the eave line which is broken only at the main entrance. The monumental entry portico, with a coffered ceiling composed of stepped cast stone and brick beams, surrounds a glazed three-story atrium space. The barrel vault above the atrium passes through the building and defines the path from the entry portico, through mezzanines, the vaulted architectural gallery, terminating at the architect's conference room. The building structure is a steel frame with engineered wood roof framing, metal deck and concrete floors, and brick veneer with concrete block backup. Detailing includes cast stone components, leaded copper roofing and cladding, and purple Vermont slate set on a diamond pattern, and this pattern is repeated in the barrel vault wall cladding and the entry plaza pavers.