Martin A. De Sapio, AIA
270 South Main Street New Jersey 08822
​
Email: info@desapio.com
Phone: 908/788-5222 ext. 206
Fax: 908/788-6877
​
Martin A. De Sapio, AIA
270 South Main Street New Jersey 08822
​
Email: info@desapio.com
Phone: 908/788-5222 ext. 206
Fax: 908/788-6877
​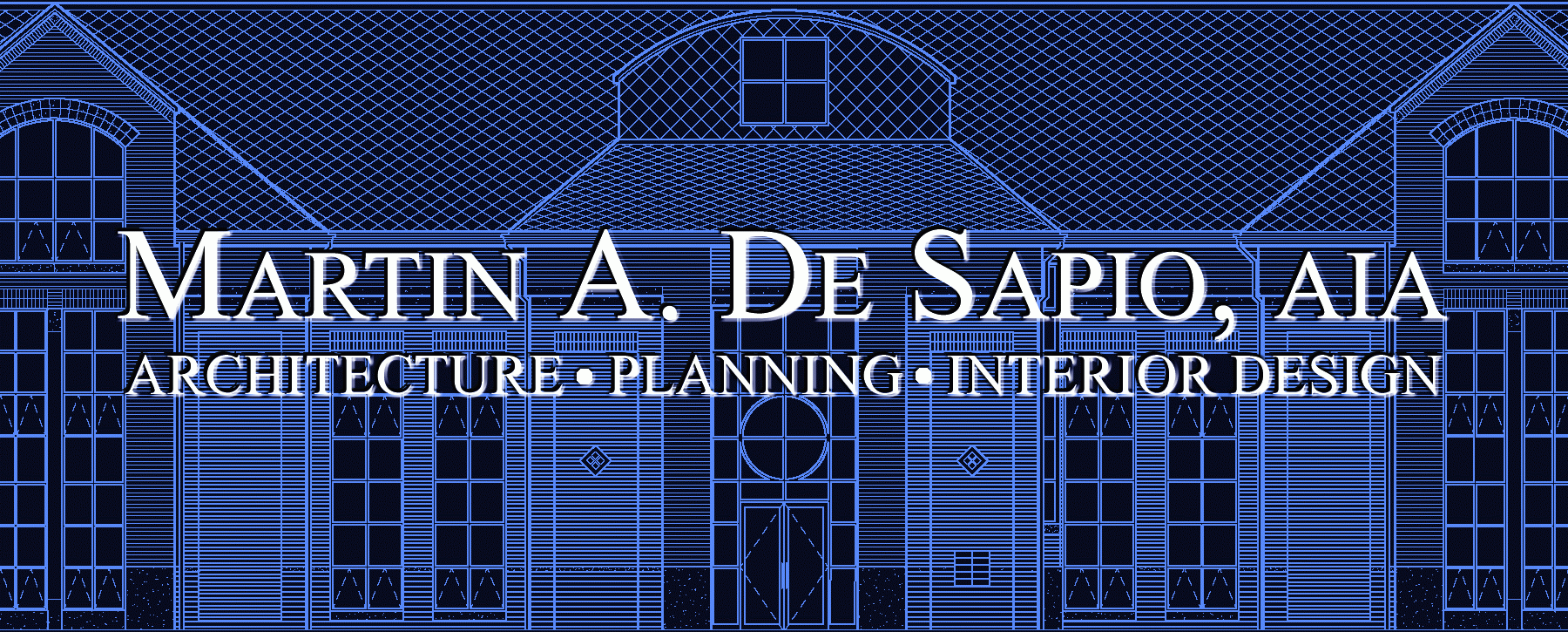 ST. LUKE CHURCH
Toms River, New Jersey
Description
The Parish of St. Luke had outgrown their existing church, which was constructed in 1984 along with an office wing with a second level rectory, at their Freehold Road site in Dover Township. The master plan for this project consists of a new church building, an office wing, and a classroom wing with twenty classrooms that are deferred for future construction. The building program required that the entire facility be fully accessible with interior connections to all functions. The existing church and rectory were located between two separate parking lots, which were expanded and connected on the west side of the site. The new office wing is connected directly to the rectory.
The main office entrance to the north parking lot creates an axis to the center of the church gathering space. The main church entry includes a plaza and a roof overhang constructed of glue-laminated truss and framing.
A larger roof extension to the south creates a covered drop-off area. The entrance gables are composed of smooth and rough concrete masonry of two colors, creating a façade within a façade.
The split-face block of the new church is very close in color to the existing complex, but the ground-face block is a cream color, which allowed us to deviate from the original scheme. The gathering space is a four-gable glue-laminated and wood deck structure with a main axis and ridgeline connecting to the worship space. A full-height oak and glass wall separates the gathering space from the worship space while maintaining a strong spatial connection between them.
Concrete masonry units of various sizes and textures were used for exterior and interior walls, with rough and smooth exterior walls reversing their textures on the inside. Glass block allows light to pass between block wall panels. On the interior, the smooth panels are toward the occupants, with rough panels receding. Cast stone lintels and sills were used to achieve a total masonry construction with an austere character. The worship space has seating for 900 around an accessible altar platform which is located beneath a clerestory. The daily chapel is located behind the sanctuary wall, so all of the worship areas are beneath one roof. The very light-colored wood deck is up lit, and the floor of the worship space is polished porcelain tile.